>
Liverpool Property Investment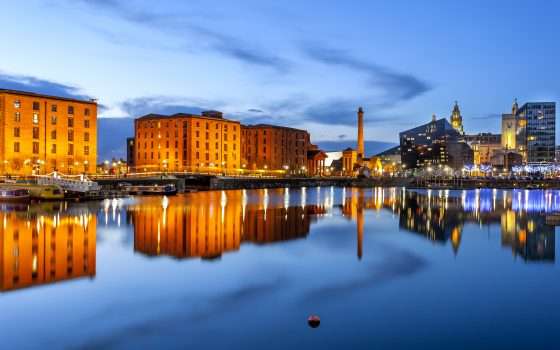 Should you Consider Liverpool Property Investment?
Located on the River Mersey in the North West of England, Liverpool is famous around the world as a shipping port and a capital of culture. The city has a young, growing population and is an incredibly attractive business destination, particularly in the finance, manufacturing, digital and creative sectors.
The city has been transformed in the past decade by significant public and private investment. The waterfront in particular is stunning. Unfortunately, there is a real shortage of high-quality rental accommodation available, meaning that apartments are being let for a premium. This, however, is great news for investors and makes Liverpool a national buy-to-let property hotspot.
Liverpool has seen some population growth over the past ten years meaning that the city is very high up in the desired locations for prospective tenants. Since 2012, the population in Liverpool has grown by 7.5%, meaning that investors would see strong tenancy rates within their investment property.
Why Invest in Liverpool?
Property Values in Liverpool
According to HM Land Registry's UK House Price Index, House prices in Liverpool increased by an impressive 14.1% in the 12 months to December 2022, and look set to continue with a cumulative 11.9% increase in the period from 2023 to 2027 – surpassing the UK average of 8.9% in the same time period (JLL).
Liverpool Rental Market
The rental market in Liverpool is also expected to perform well in the comes years, with JLL forecasting rents to increase by 15.9% in the aforementioned period. Buy-to-let investors have found investing in Liverpool extremely profitable, thanks to higher-than-average yields. In the L1 area, the average yield stands at an astonishing 5.9% according to PropertyData.
Liverpool Student Property Investment
One of the most attractive sectors in the Liverpool buy-to-let market is purpose-built student accommodation, with impressive rental returns and low void periods making student property investment extremely prosperous. The city is home to a number of the UK's leading universities, including The University of Liverpool, and benefits from an excellent student scene, further enhancing the demand for student property in Liverpool.
Current Liverpool investment opportunities
Liverpool Property Investment Stats
13.2%

House prices in Liverpool increased by an impressive 13.2% in the 12 months to November 2022 (ONS, 2023)

15.9%

Between 2023 and 2027, rental values are set to increase by 15.9 % in Liverpool. (JLL, 2022)

£14bn

Liverpool is currently undergoing a £14 billion regeneration scheme, including the redevelopment of the iconic waterfront, a new creative district and a world-leading knowledge sector. (Regenerating Liverpool, 2020)

£30bn

Liverpool is the gateway to the Northern Powerhouse and a city region with a GVA of £30bn per annum. (Regenerating Liverpool, 2022)
Liverpool Rental Yields
If you are considering buying a rental property, it's important to know what your expected annual rented income will be and how this calculation is done so you can compare properties. In terms of rental yields, Liverpool is frequently listed as one of the top spots to purchase a buy-to-let property, thanks to its low house prices and very strong tenant demand.
According to Property Data, the highest performing postcodes in Liverpool are L4, which is performing at 6.6% rental yield, (city centre and Everton) L20 – 5.8% yield (Bootle and Ormskirk), (Lathom and Blackmoor) L3 with a 5.7% yield and L1 has a 5.4% yield which covers the Liverpool City Centre area.
The average rental yield in Liverpool currently stands at around 6%, which is considered to be a good level of rental yield. Liverpool is home to the fastest-growing city centre population in the UK, and numbers are expected to grow by a further 24% over the next five years.
Liverpool: A Student City
Liverpool boasts a thriving student community and is home to three universities and around 70,000 students, with 50,000 students being from overseas.
The University of Liverpool continually ranks highly for the delivery of courses and student satisfaction and is only five minutes away from the city centre. Liverpool University is the oldest and highest-ranked of the city's higher education institutions, meaning student investment property can provide stable income.
High-quality housing with central locations and good transport links are in high demand with students for their years at university, which Liverpool delivers.
Liverpool offers cheaper than average student accommodation, cheaper general living, a thriving nightlife and many more places of interest and is one of the most affordable student cities in the UK.
Ensuring that the property is in good repair, well-maintained and close to local amenities will ensure that students will remain interested in the property each year.
Liverpool Economy and Regeneration
Liverpool is currently in the midst of a massive regeneration plan worth a staggering £14 billion with the hopes of improving the already impressive economy. The investment is predicted to deliver 9,000 new jobs and 5,500 apprenticeships for residents in the city. The city will also be part of the upcoming HS2 network, as well as the Crossrail project for the North of England. This is only going to make Liverpool even more attractive to investors.
According to the city council, Liverpool is now attracting over £1 billion in investment each year, contributing to the internationally recognised city's renaissance. Liverpool's waterfront has been completely transformed thanks to the Liverpool Waters Development. The development is a £5.5 billion investment that will redefine the city's historic waterfront into a multi-use destination that will bring together business, residential and leisure facilities.
Liverpool's regeneration will only have a positive effect on the city's property market, with all of the proposed plans enhancing the city's reputation in the investment world and encouraging potential investors from around the world to consider the Merseyside city.
Liverpool Property Investment FAQs
Is Liverpool a good place to invest in property in 2023?
According to ONS, property price growth was higher in Liverpool than in a number of the major cities in the UK over the year to November 2022. The average UK house price increased by 10.3%, whilst Liverpool increased by 13.2%. Despite these relatively significant price rises, compared to average property prices nationally, Liverpool remains an affordable area for investing. House prices in this area continue to remain undervalued and are set to increase rapidly, making now the ideal time to invest.
Is Liverpool a good area to invest in for a first-time property investor?
Liverpool is amongst the top locations for investors, with a vibrant sought-after student, working professional and social life, the location is continually attracting all types of tenants. The average rental yield in Liverpool is around 6% which is more than double the national average of 3.2%. This makes investing for the first time in Liverpool guaranteed to meet any investor's buy-to-let expectations. The large student market is also a good opportunity for a first-time investor as the city offers lower-than-average property prices and student property is generally cheaper than residential.
Is Liverpool well suited to an established property investor?
Liverpool continually remains strong in terms of growth and popularity and remains one of the areas where prices remain below market value. This makes Liverpool an appealing place to invest in property, and leading industries predict strong rental returns and GPA growth continuing to 2026.
Are property prices expected to drop in Liverpool?
Industry experts are expecting property prices to continue to climb. With strong price growth in assets, good yields and high rental demand, Liverpool stands out as a thriving and exciting city to invest in, with a booming local economy, a growing jobs market and several world-class universities, bringing a large student population.
Has Liverpool undergone any regeneration schemes?
Liverpool has made a name for itself as a key UK regeneration hotspot. The city has undergone many redevelopment processes, providing leisure, almost two-thousand residential housing units and hotels, and conference facilities including the M&S Bank Arena and the Exhibition and Convention Centre. Liverpool offers its residents an affordable luxury lifestyle that many other cities outside of London struggle to match.
What properties do you currently have available for investment in Liverpool?
To see our latest available Liverpool properties, click here.
Why Choose Knight Knox for Property Investment in Liverpool?
Knight Knox make investing in property simple. We are market leaders when it comes to the sale of off-plan buy-to-let properties for the private investor market, particularly in Northern regions. We have almost 20 years of experience in helping clients find their perfect property investment in the UK buy-to-let market, offering a personal service to ensure all of your needs are met.
Our track record speaks for itself. We have launched over 100 developments with a total value of over £1.2 billion, over 90 of which are now completed and tenanted. Whether you are a first-time investor or looking to build on an established portfolio, we are certain to have the perfect property for you!
Are you interested in Liverpool property investment? Get in touch today!